WORKSHOP FLEXLINES @ MicroNanoConference
Meet us at the Microsystems & Nanotechnology conference at Utrecht!

Flexlines will be hosting a personal workshop at this venue telling you the ins and outs of the progressions our consortium is making in the development of the pilot line and 'one-stop-shop' for the realisation of flexible electronics prototypes.


PROGRAMME OF OUR WORKSHOP

16h45 - 18h30: Presentations and networking


INTRODUCTION AND INFRASTRUCTURE: Margreet De Kok, Senior Scientist, TNO/Holst Centre
ONE-STOP-SHOP: Romano Hoofman, Program Director, imec
DESIGN: Mohit Dandekar, (on behalf of professor Wim Dehaene), KU Leuven

Flexlines offers you the possibility to register for the 2 days at the Micro Nano Conference
with our partner code.
Instead of €375,- euro exclusive VAT, you can sign in with your personal code MNC85361 for €200,- euro exclusive VAT for two-days entrance (this is excl. the evening programme).



---



Content international MicroNanoConference 2019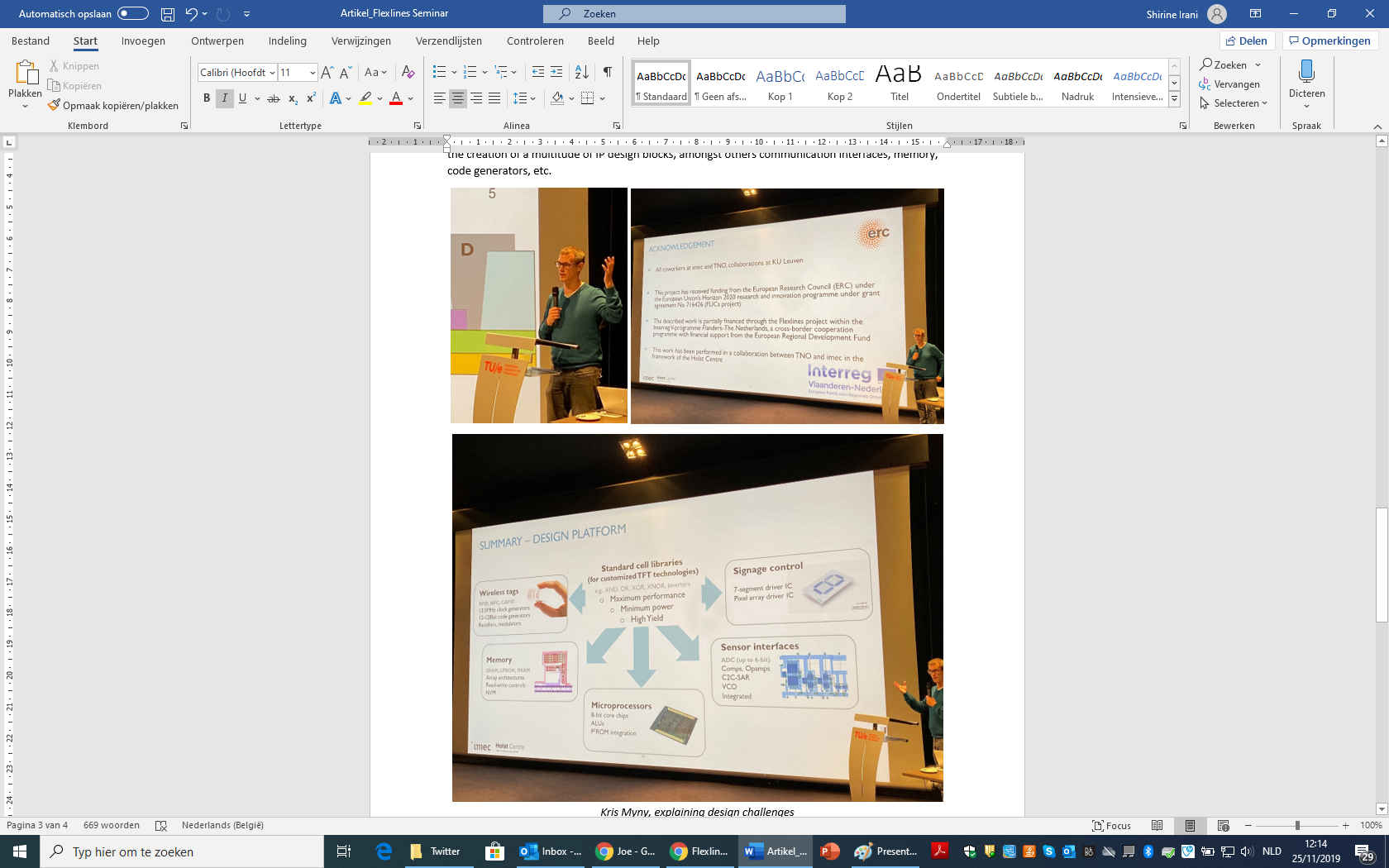 Where industry meets science, where problems can find solutions and where trends, challenges and new technologies are highlighted.
On December 10 and 11, the international MicroNanoConference 2019 will take place at a new location: SuperNova Jaarbeurs Utrecht, the Netherlands. This conference organised by MinacNed, focuses on Dutch and international businesses, universities and research centers and offers an opportunity to bring these areas together to stimulate: cooperation, knowledge and innovation.

The conference themes are in line with the social and economic challenges and missions determined by the Dutch government:
Health & Life science, Agro & Food, Sustainability & Energy, Manufacturing & Engineering

Join the following activities at the 2-day conference: plenary sessions, 4 parallel lecture sessions, challenges and polls, a start-up track, a trade show floor with a start-up corner, where prominent companies present their products, technologies and services, a pitch podium for: exhibitors, young scientists and visitors, workshops, a social dinner with evening programme, poster- and start-up awards and as closure of the conference MinacNed's 15th anniversary drink – 'To the future and beyond'.

Practical info:
When: December 10, 2019

Location: 16h45 - Supernova Jaarbeurs Utrecht - Hall 'Expedition'

Organiser: Flexlines together with MinacNed

Price: Member price MinacNed=200€ (instead of 375€) for a 2 days entrance at the Micro Nano Conference - with our personal invitation discount 'MNC85361'

Extra info:

Go to the website of the iMNC visitor registration > click on the button 'register' > click YES to the question 'Did you receive a personal invitation code?' and fill in your personal code: MNC85361


Register